SAVE THE DATE! SATURDAY JUNE 10TH! 5 YEAR CELEBRATION OPEN HOUSE!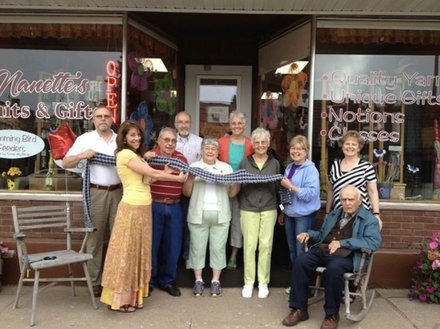 ​

Can you believe it?! This June my shop will have been open five years already?! To celebrate, on Saturday, June 10th, Nanette's Knits and gifts will have an Open House! We will have a pen set up with alpacas, Buddy and Jasmine. You will have first-hand experience touching a variety of fibers. We will also have a sweet English angora rabbit to pet. Rosebud's owner, Denise Engel will be here spinning her fiber, along with other spinners. While shopping, you will be able to choose a delicious alpaca cookie with a discount of 10%, 20%, or 30%. written in frosting on the back of each cookie selected at check out, where you can also sign up to win a $50 gift certificate door prize!

THAT'S NOT ALL!
​Saturday June 10th is the worldwide celebration call "Knit in Public Day". Bring your own lawn chair and a project to knit or crochet on the sidewalks in our quaint little town of Wakefield Michigan!

ONE MORE NOTE:
Kath Usitalo will be here signing her new book "100 Things to Do in the Upper Peninsula Before You Die" book (as seen on TV)
Very excited to have Kath here!

Spread the word and have a fun filled day here at Nanette's Knits and Gifts.
Please no dogs at this event. Alpacas are naturally afraid of dogs. Thank you!
Nanette
April 11, 2017
Happy spring! A light dusting of snow (ok..4 inches) fell yesterday, but it's almost all melted already. Hummingbird season is soon approaching! Dave has now designed a feeder that holds 20 ounces, (Hum Sweet Hum) along with the original "lil Sweetie' which holds 8 ounces. Scroll down and you'll see my brother Dave in his shop, with my nephew Danny. This hummingbird feeder is amazing. It has been featured in many birding magazines such as "Birds and Bloom" and
"Birder's World" The little Sweetie comes in several colors, cobalt blue being the newest color!
Many unique gift items have arrived for spring and summer. Also new styles and prints of Aden + Anais baby clothing, swaddles, bibs and toys are here. Super soft organic bamboo and cotton which gets softer with each washing. Your baby will thank you :)

​
SISU SKI FEST!
I will have a booth at the Memorial Building for this event! Friday and Sat. Jan 6-7. I will have toasty warm alpaca socks, mittens, hats, scarves, etc..also goat milk soap, lip balm, local honey, maple syrup, thimbleberry jam, along with UP and Lake Superior pendants. Don't forget the handstitched items from my mom! She has now designed the Green Bay Packer elf and a chickadee! Come out and have a fun week-end! :)
| | |
| --- | --- |
| These beautiful alpaca hats are lined in fleece. Very soft, warm and stylish :) | |
​ CHRISTMAS GIFT GIVING IDEAS!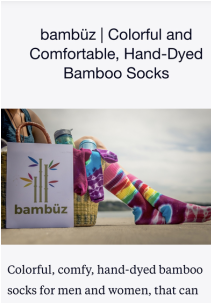 Another great gift idea! These bamboo socks are hand dyed by my nephew Prashant. The are eco friendly and so very soft. They wick the moisture from your skin, thus preventing odor issues and clammy feet. The more you wash these socks the softer they get. They come in infant to adult large! Stop in and see all the neat colors!
---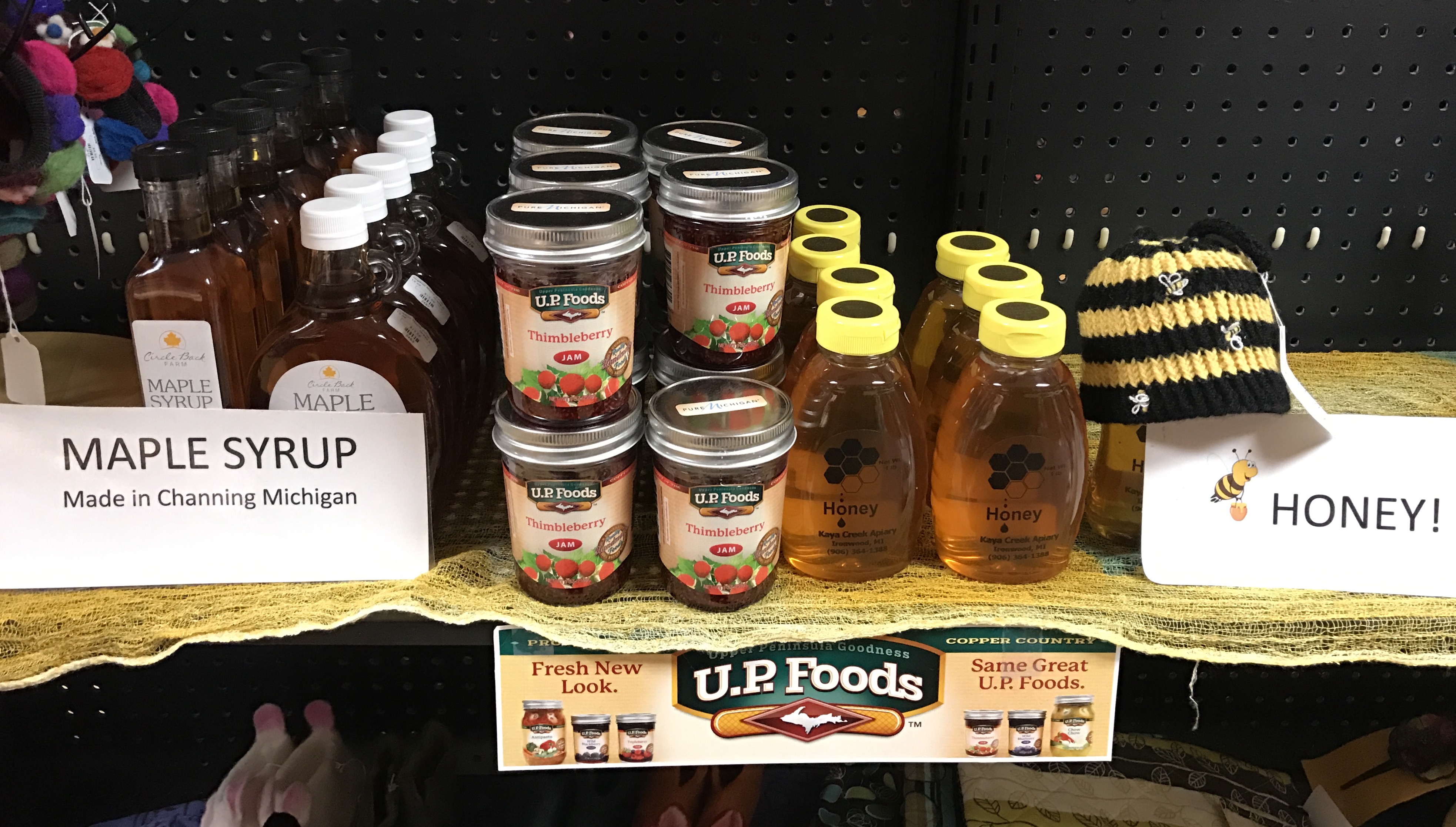 Thimbleberry Jam is here! Also available...local honey and organic maple syrup
​Perfect stocking stuffers! :)


​​More great gift ideas! These UP necklaces are Michgan made..the mini UP necklace (about the size of a dime) has a copper background with Swarovski crystals, and an 18" Sterling silver chain. The Lake Superior and original UP locket
​are approx. the size of a quarter, also with sterling chains. These pendants are among the favorites for the Yooper lovers! Easily shipped. Gift Certificates available as well.
​WINTER IS HERE! STAY WARM!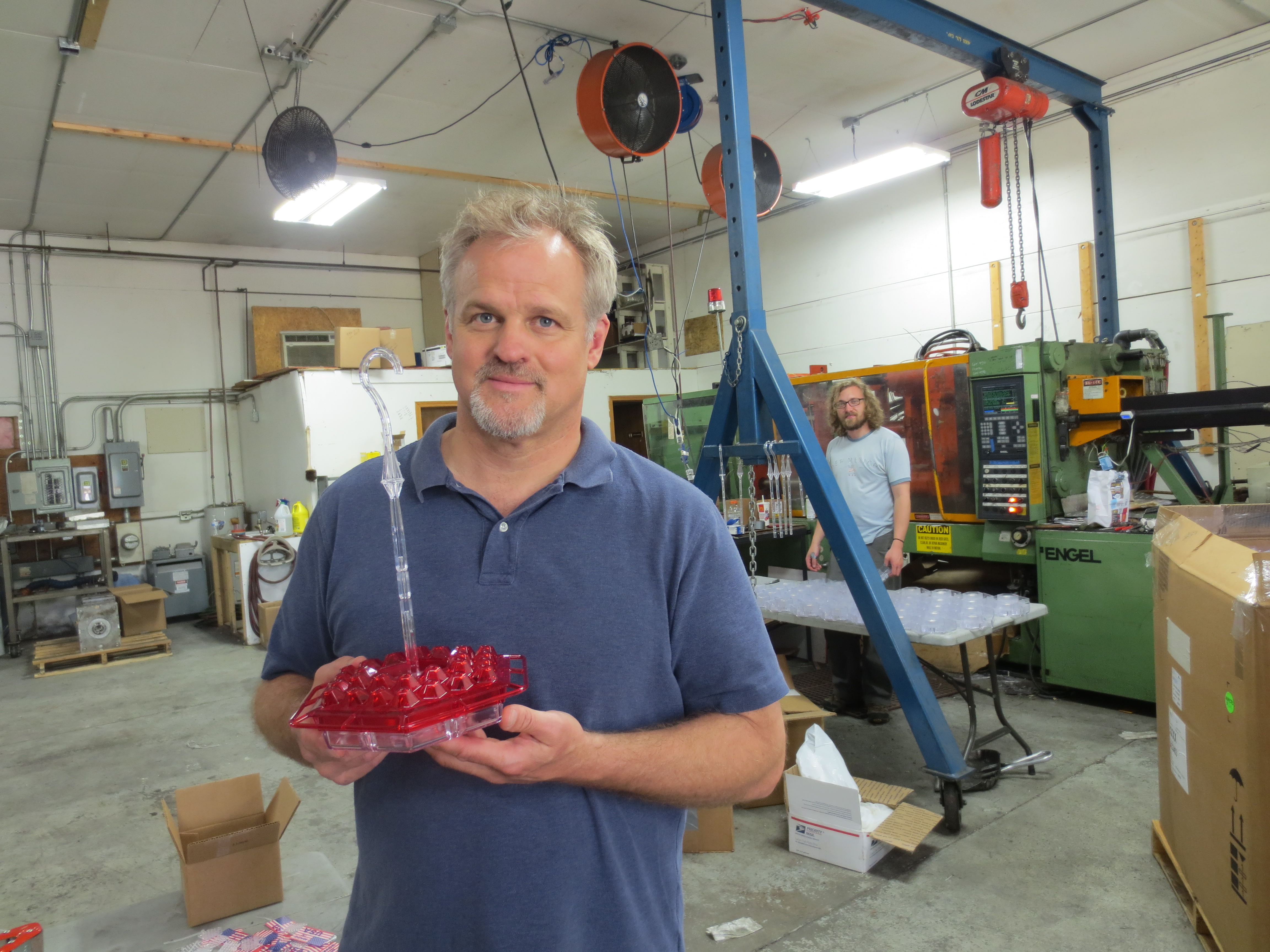 Another great gift idea! My brother Dave designed and manufactures this 'lil sweety hummingbird feeder! It holds 8 ounces and has 30 ports with six perches..they really seem to love it and they stay around longer, and with more room they don't fight as much. There is an ant mote which prevents the ants from getting into the nectar. This feeder has been tested near bees. After one week there were no bees in the nectar. Featured in 'Birds and Bloom' and also "Birder's World". Dave is now manufacturing the"hum sweet hum" which has 54 ports and holds 20 ounces. Dave discourages the dyeing of the nectar which has been known to sterilize the birds. I will ship to you. 906.364.4752
---
Tis the season for shopping! Once you go 'alpaca' you never go back-ahhh! :)
November 16th, 2016
Hi ladies! What a great time to shop while your guys are out hunting! Just received a huge shipment of new alpaca hats, mittens, and toasty warm alpaca socks, along with headbands and beautiful alpaca sweaters. Stop in and check it out :)

​
My open house was a great success! Congratulations to the 14 door prize winners and also to my Grand Prize winner who won $112.00 worth of alpaca socks! I appreciate my customers so much! I will never take their loyalty for granted! :)
​


​ ~OPEN HOUSE~
Nanette's Knits and Gifts' annual open house will be Saturday November 12th, from 9-5. Come check out all the lovely new Christmas gift ideas! There will be great door prizes drawn every hour for the knitters and also the non-knitters. Grand prize will be $100.00 worth of toasty warm alpaca socks! We will have a talented harpist playing her wonderful music as you shop. Refreshments will be provided as well. SAVE THE DATE! Bring a friend! FUN! :)
Sept. 2, 2016
Fall...my absolute favorite time of the year. Crisp, cool air, no bugs and still quite pleasant... my idea of the perfect season! Many new items have been added to my shop recently in preparation for a busy season coming up. I have a new account with a gal from Green Bay who is stitching up some wonderful felted mittens. These mittens have character and some neat designs. In addition to being toasty warm, they are made from some beautiful fiber such as cashmere, silk and of course wool..We've put them together to match up with our cozy alpaca headbands. My mom is matching these to her hand stitched flowers...Great gift ideas!
New shipments of alpaca socks are coming in as well! Our trusty original socks in addition to some new ones. There are some beautiful new colors of my best selling EBEL alpaca sweater. Theme: Warmth :)
July 27, 2016
Well we survived the storm of 2016! It was either a F1 tornado or straight line winds of 95 miles an hour on July 11th. Either way, there was extensive damage to our little town. So many caring and sweet people in this area chipped in to help any way they could. Although much has been cleaned up, there is much still to be done. Thankfully my new mural survived! My poor sign on the highway is still laying in the driveway by Holiday gas station, but that too will be fixed. Luckily no one in this county was hurt.
My shop has been quite busy with the tourist season in full swing! Stop in and see all the new yarn and patterns I have available. If you're stuck on a project, please feel free to bring it in. If it's something extensive that needs more time, call 906.364.4752 and let me know when a good time is for you. If you need a beginner class, set up a time and I will be happy to get you started! I love getting more knitters out into this world :)


June 24, 2016
Wow, where did the time go?! With the 4th of July just around the corner I wanted to give a shout out to say I will be open Monday July 4th from 9-2:00! The mural is finished so come and check it out! Have a wonderful 4th!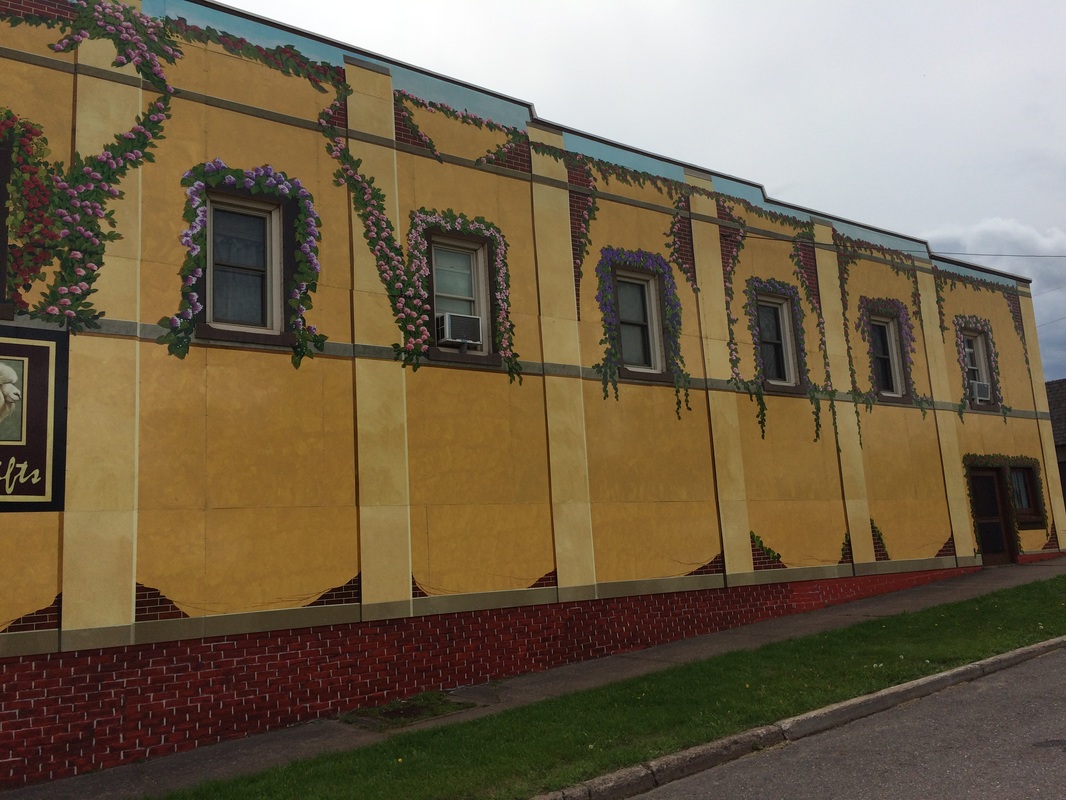 May 19th, 2016
Hello fellow crafters!
​I hope you are enjoying this beautiful spring that we are having! It's been busy here at "Nanette's Knits and Gifts!"
Beginner classes are staring, so sign up soon. There are a few time slots still available. Some of you have noticed a little activity outside on our building. This winter I hired Kelly Meredith out of Butternut WI to paint a mural. The building needed a face lift so a mural seemed like the perfect solution! They should be finished with it at the beginning on next week. I will try and post pictures soon! Very excited!
Hummingbird season is here! I've noticed quite a bit of action on my feeders this week. My brother Dave's "Little Sweetie" feeder has been a popular item of late! Great gift idea as well! Thank you so much for your support! Enjoy your summer and stop in to chat if you're passing by! :)
---
April 6, 2016
Below you will find a slideshow of my shop. I haven't done this in awhile. Looking back, there are many new items available ... hope you enjoy. :)
March 29, 2016
​Happy Spring everyone! I must say.. when I can change my theme page from winter to my apple blossom theme I am happy! The month of April will be a time for spring and summer knit and crochet projects.
Come check out all the new patterns and beautiful spring and summer yarns. The colorways are wonderful!
Very soon will be humming bird season! My sister Janelle and I will be going down to Grand Rapids and bringing back more of brother Dave's fantastic hummingbird feeders in all the neat colors. These make wonderful gifts for the thoughtful neighbors and friends who have taken such great care of your homes while you were away this winter. :)
​February 18, 2016
Hello all!
Many of you have shown an interest in the yarns that I carry. I am excited to announce the arrival of Berroco yarns! 121 #'s of it being delivered on Tuesday. Beautiful alpaca, merino, silk, linen ... beautiful colorways. How to choose. My dilemma this past week. :) I also have an new yarn by Blue Sky Fibers called Suri Merino. So very soft! The Suri alpaca is a rare breed of alpaca (I have the Haucayas) which has beautiful soft fiber with no crimp, long and straight pencil dreadlocks. Very lustrous and silky. Only 3% of this type of alpaca are in the US.
I also carry Madelinetosh, Three Irish Girls, Blue Sky Alpacas, Spud and Chloe, Interlacements, Brown Sheep, Opal Sock Yarn, Kraemer and many more. Stop in and check it out. There is allot of winter left with many cool projects to knit or crochet! New needles are the Flip Stix by Skacel and also the 'turbo rockets' So much fun!
January 14, 2016
I hope everyone had a wonderful holiday season.

Now that the holidays are over, I am starting up my classes again. Beginners can sign up (one on one only) for week days at 9:30 a.m. or 2:30 pm for one hour which is $10, or Saturday morning at 9:30. Other interested knitters give me a call with a project you'd like to try. I'd like to put more knitters out into this world. Yay! :) Nanette
December 30, 2015
Happy New Year! At the close of another year, it is my sincerest hope that you all have a healthy, happy and peaceful year in 2016. Thank you all for your support. I truly appreciate your business. Nanette :)
Holiday Hours:
New Year's Eve open 9-5
Closed New Year's Day
Saturday Jan 2nd open 9-5
December 8, 2015
Merry Christmas! Just a quick note to let you know my holiday hours:
Tuesday-Saturday 9-5
Monday 10:00-3:00
Closed Christmas Day. Also closed Dec 26-28.


December 8, 2015
Some of you may need a little help with gift ideas...that's why I'm here! My number one best sellers are of course the toasty warm alpaca socks. Many new styles to choose from. I also have my brother Dave's 'lil Sweetie hummingbird feeder www.lovemybirds.com..my brother Jim's carved birdhouses and gnomes, my mom's hand stitched felted wool "Northwood's creatures" and ornaments, my sister Maria's natural beeswax candles, her son Prashant's ECO tye dyed bamboo socks, beautiful alpaca sweaters and accessories, hand knit alpaca mitts, super soft baby alpaca Teddy Bears, and many more unique gift items. Stop in and check it out. I will help you pick out the perfect gift for the loved ones in your family. Cheers! :)
OPEN HOUSE TOMORROW, NOVEMBER 14TH, 2015.
I have enough prizes to draw every 1/2 hour! Demonstration on 110 year old sock machine, Lisa working her magic on her beautiful harp, refreshments! Come join the fun! 9-5. The weather looks very promising as well!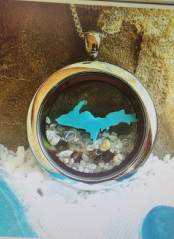 November 13, 2015
Great gift idea! This UP pendant is our beautiful Upper Peninsula of Michigan in turquoise set inside a stainless steel glass locket surrounded by sand and Swarovski crystals strung on an 18" sterling chain. The Michhigan Locket is about 1" in diameter. This quality necklace sells for $64.95 with $10.00 from each sale donated to our Wakefield Revitalization Committee. Help us beautify our charming little town and at the same time give a unique gift to your loved ones this Christmas..Available here at Nanette's Knits and Gifts. I love this locket! :)
---
Oct 30, 2015
I will be having my 3rd annual Open House on Saturday November 14th from 9-5. Refreshments served with some wonderful prizes drawn every hour for the knitters and non- knitters alike. I will have a Grand Prize of $100 worth of toasty warm alpaca socks. Lisa Kinney will be here playing her lovely harp.
Stop on over and check it out! Fun day! :)
October 10th, 2015
Happy Fall! What a gorgeous one is has been. The colors are peaking this week-end and a high of 78 tomorrow! It's been 3 years this month since I've opened my shop. I can hardly believe it. Lots going on here...This is the busy season, with my fall classes (check out 'classes') and early shoppers. Don't fret...I have plenty of alpaca socks, clothing and accessories ... I also have natural bamboo, cotton and muslin Aden and Anais baby clothing, along with gentle soaps, lotions and conditioners for gift giving this season. And don't forget the bird lovers in your family. 'Lil Sweetie hummingbird feeders... www.lovemybirds.com and also the carved bird houses from both brothers, Dave and Jim. Stop on in and check it out and as always I have gift certificates available!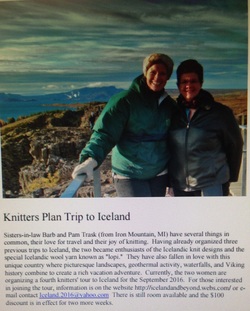 September 17, 2015


Here's an opportunity of a lifetime! A trip to Iceland for fiber enthusiasts & adventure seekers. Pam and Barb Trask from Iron Mountain have organized three previous trips to Iceland and now another in September of 2016. I have my trip booked along with 3 others from my fiber group! For those interestd in joining the tour, their web site: http://icelandandbeyond.webs.com Still room available... FUN!!
---
August 28, 2015
We will be blessed by at least 2 more weeks of warm, balmy weather..looking forward to spending it at our beautiful Sunday Lake with the grand kids!
Some new children's books are now available here at "Nanette's Knits and Gifts" one being a book for older children called 'Underwater Adventures with Louis and Louise" by Stephen T. Schram. This book is about a brother and sister lake trout duo who explore the great lakes. Stephen Schram is a fisheries biologist on Lake Superior. Stephen resides in Bayfield WI. A great book for children with wonderful illustrations.
The second children's book now available here is called "Y is for Yoopers" by Scott Reddinger who is a native of Iron Mountain. His book is an ABC book describing everything in the Upper Peninsula in a fun and exciting way! Pick up either of these books or I can ship a copy to you. Both are signed by their authors. Fun gift idea!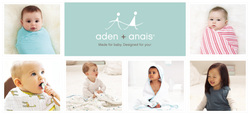 August 4, 2015
I am very excited to welcome aden+anais products to my shop! Organic cotton, muslin, and bamboo materials make up this wonderful collection of baby and children's line of swaddles, clothing, toys, and much more! Stop in and check it out. Should be here this week!
---
August 1, 2015
Hi there! Can someone please tell me where July went? Wow! It's been so much fun meeting all my customers from all around the world! The signatures in my guest book show people from far and near. As far as Shanghai, China and from everywhere in the US. Thank you all for finding me!
The Wakefield Outboard Nationals were held this week. Aside from our windy conditions, I think it was very successful. A big thank you to all who supported our local businesses. Safe travels home tomorrow.
Busy August coming up. A new product being introduced to my shop. "Aden and Anais" baby wear and accessories. Felted soap class at the DAP classroom in Ironwood on Monday. Felted slipper class coming up in the fall. Fun! Stay tuned! :)
July 17, 2015
Some exciting new yarns are here! One being the Abracadabra yarn by Hikoo. It's a natural colored DK yarn until it's exposed to UV light, then it turns to a beautiful purple or pink! Stop in and check out the new scents of the natural goat milk soap. Also just arrived ... more 'bug out' soap and lotions sticks! Keep those pesty biting insects away with these natural products. Hope you are having a wonderful summer! Nanette :)
June 27, 2015
Happy 4th of July folks!
We've had such a busy spring! Lots of new products and yarns, not to mention a brand new granddaughter who surprised us 3 weeks early! We are blessed!
Nanette's Knits and Gifts will be open on the 4th till 2:00, so stop in! Enjoy your families and friends! Nanette :)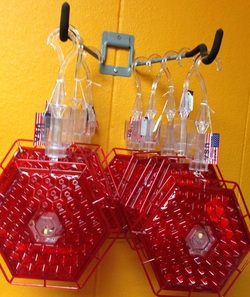 May 28, 2015
Hi all! New batch of 'Little Sweety' hummingbird feeders are here. Stop in and pick one up. Fusia, purple, merlot and red now available. Featured in 'Birds and Bloom' and 'Birder's World' magazines! :)
---
May 22, 2015
Exciting news! Nanette's Knits and Gifts was awarded "Business of the Year" by The Wakefield Chamber of Commerce! The presented me with a beautiful plaque and a nice picture of my Grand Opening. We had cake and coffee. It was wonderful. I'd like to thank my loyal customers for their continued support of this little knit and gift shop. I can feel the love!!! ::)
May 19, 2015
It's been awhile since I've written on here I see..what a busy spring so far! Nanette's Knits and Gifts has been involved in the traveling Smithsonian Exhibit that has come through ... The first one on April 20th, we had snow so there was only 25 people who came to enjoy our fiber demonstration and farm visit. Yesterday was only slightly nicer outside with cold wind and threat of snow, but there was 45 people who stopped in. We had four spinning wheels going, a loom, and also a hand carder. I'd like to thank Denise Engel, Deb Byers, Karen Mallum and Jackie Bassett for bringing their beautiful spinning wheels. Also a big thank you for sharing all your natural fiber. We had flax, bison, musk ox, raw cotton, alpaca, llama, silk, angora and many more unusual fibers. On the alpaca farm we fed the animals apples and learned a bit about the alpacas. There were even chicks, ducks and turkeys to see! What a great turnout!
Now this Saturday my alpacas will be sheared. I will share pictures of the before and after shots! :)
March 13, 2015
Could it be true? Could spring really be here? It's a balmy 50 degrees outside with water running down main street. At least this is a start! We still have so much snow, but hopefully this thaw will diminish some of it! Yay!
I have a few new classes being offered next month, so check my 'classes' page. Our sock class is underway and everyone is doing great! Socks are nothing to be intimidated by. Fun class!
Nanette's Knits and Gifts along with Orchard Hills Alpaca Farm is participating in the Smithsonian "The Way We Worked" during the months of April and May. Check out their website and mark your calendars! I will have spinners and weavers here at the shop as well as a farm visit with the alpacas. You will learn a little bit about the natural fiber of an alpaca and get hands on with the animals. They love apples...hint hint. Hope to see you there!
February 16, 2014
Hello from the frozen tundra of Wakefield Michigan! What perfect knitting weather..I have several projects in the works along with some neat classes coming up..check in to my 'classes' page. On March 14th we will be celebrating PI day with a PI shawl class which will be posted shortly...FUN!😊
Jan 17, 2014
Hi there! Nice warm week we've had...mid 30's today! My classes are going great! Having lots of fun. In fact, the slipper class was so well received that I will be having another one in March! Let me know if you'd like to attend. I can take six students! Pictures to follow. Check it out on my 'classes' page. Thanks! Nanette
Jan 4, 2015
Greetings! I'm hoping everyone had a great holiday season. Just a reminder...my hours will be back to normal again...Tuesday-Saturday 9-5... Closed Sunday and Monday. Just received a new order of alpaca socks, so stop on in and pick up a pair...they are 6 times warmer than wool and super soft! Lots of gorgeous new colors of yarn for your winter projects as well..take care and stay warm! ☺️Nanette
Oops...forgot to mention...I will be open on Mondays now through New Year's. So Holiday hours will be Monday-Saturday from 9-5. Enjoy this nice warm weather we've been having! Quite a change from last month! thanks! Nanette
December 6, 2014
New classes listed in 'classes' on web site!
(906) 364-4752

November 28, 2014
Happy Holidays from Nanette's Knits and Gifts!
Here is a little slideshow of some of the great gift ideas here. You will find no stress shopping here with a toasty fire and soothing music. If you can't find it, it can be ordered. Shipping is available with credit card orders.
If you can't decide, a gift certificate is a nice option. Thank you! Nanette :)




November 20, 2014 I am so excited! My first designed pattern is now available for purchase on Ravelry (and of course here at Nanette's Knits and Gifts!) It's called 'Cabled Hat with earflaps' It was fun to create! Check it out!
Thank you to my models Talon and Blaike!
November 17th, 2014. Wow! Where to begin?! Two weekends ago we had a fabulous turnout at the Holiday Hop Shop with 20 participating crafty shops in the area! So much talent! This past Saturday, Nanette's Knits and Gifts had it's annual holiday open house. Great turnout! Yay! The sun was shining and after the 38 inch storm we had, people were so ready to get out and start their holiday shopping! It warmed the heart to see the streets of this tiny town of Wakefield filled with shoppers! Nanette had her cozy warm fire burning, a beautiful harpist playing her lovely music and tasty refreshments all available for a unique shopping experience. Thank you! 😊
October 26, 2014.
Another gorgeous day here in the UP of Michigan, but sadly a forecast of snow by Friday. We all know it's coming, but sheesh, it's a hard transition.
Exciting November coming up! November 7th and 8th we are all having a Holiday Shop Hop! This is when all the area's shops get together and participate with a donated gift or gift certificate in the amount of $25 each. You, the customer, will get a card that will be punched or stamped at each shop. There will be a grand prize drawing from this card at the end of the holiday shop hop, valued at $500! There will also be other prizes drawn for second and third place winners. Refreshments will be provided as well as an in-store prize drawing at each shop! What a great way to start your holiday shopping.
Wait, I'm not finished! Saturday, November 15 is not only the first day of hunting season here in the upper Peninsula, it is also Nanette's Knits and Gifts open house! I have been opened two years already, can you believe it? To celebrate on this day, I will be drawing wonderful prizes hourly, with the grand prize drawing toward the end of the day. Also, I am very excited to announce that there will be a harpist playing lovely, soothing music for your shopping pleasure. Refreshments will be provided. If you want to plan a lady's day out, a road trip, or start on your holiday shopping, perhaps this might be the day to do it! Thank you! Nanette😊
October 11, 2014
Weren't the leaves spectacular this year? I think the oranges, reds and yellow were so much more vibrant than in any years past! So very beautiful. Love this fall weather.
I will be having an open house on Saturday November 15th, from
9-5. There will be door prizes drawn on the hour, with a grand prize drawing as well, along with refreshments. Ladies, if you feel like bumming on the first day of hunting season, stop on in! Fun!!
Sept 23, 2014I am very excited to be adding a new class in October...go to my 'classes' page and get the details!

Sept 16, 2014
Hi all! Well, our little road trip to "The Three Irish Girls" in Superior, Wisconsin was amazing! We met two of the three Irish girls, Erin and Kelly, oh.... and we also met their new addition, 5 week old Adriana Rose! Will they call their establishment "Three and a half Irish Girls?" Stay tuned...Erin and Kelly gave us a wonderful tour, explaining the process of dyeing their beautiful soft, and buttery yarns..I brought home some of their super soft Glenhaven, Adorn and Kells yarns..stop in and take a peek!
Sept 9, 2014
Where do I begin? The Wisconsin Sheep and Wool Festival was amazing!! It was eye candy for the crafter for 3 full days. I didn't take any classes as this was my first time, but my friends took classes and they loved it! Perhaps next year, but this time I wanted to absorb it all. Booth after booth of the neatest yarns and crafts. Spinning wheels galore. I even had a little lesson on one that I admired. I brought home some wonderful yarns from Interlacement. Tracy Schuh out of Green Bay, does a fantastic job of dyeing all her yarns. Beautiful colorways. I did bring home a French angora bunny. I named her Monique. My daughter-in-law and granddaughter will take care of her. They already groomed a small bag of fiber from her. Irresitible! Now I have to brush up on my spinning. Can't wait for next year. Stop in and see all the new yarns! On the 15th of September several of us will be touring The Three Irish Girls out of Superior WI. I have ordered Adorn, Kells Sport, and Glenhaven Cashmerino. I am so excited to see the colors I chose. Kelly and Erin do a wonderful job of dyeing their own yarns! I asked them that, instead of shipping my yarn, if we could tour their facilities..They said tours are very welcome. Yay! Will let you know how that goes and maybe put a few pictures on. Life is good!
Thanks, Nanette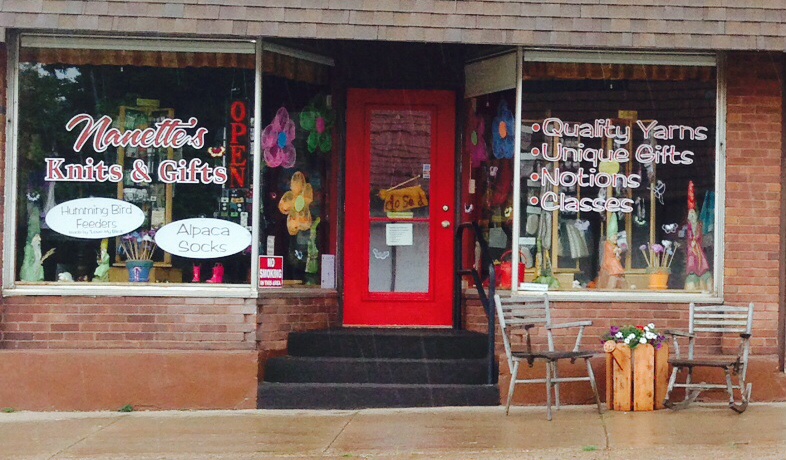 August 20, 2014 Happy fall everyone! I am so excited for three new yarns coming to my shop...Madelinetosh's Pashmina in many gorgeous colors, as well as Three Irish Girls right out of Superior WI...all hand dyed! Also my own alpaca yarn should be ready this fall as well. I decided to keep all natural colors this year...silky soft white, buttery dark brown from Libby and baby Jasmine Jewel, and I'm very excited for my new alpaca Diesel's true black locks..stop in soon! Oh...don't forget the alpaca socks for your hunters! Thank you. Nanette☺️
---
July 24th, 2012
Hello! I'm hoping you are all having a wonderful summer. I am really enjoying all the travelers stopping in to see my shop. I've had folks from all over, including a gentleman from China! So cool. If you do stop in, be sure to sign my guest book.
My felted slipper class is almost finished. We are at the point of sewing on our leather soles, then lastly we will be needle felting our designs on the sides. Pictures to follow! Fun, fun!
What class shall we have next you ask? I have a sock class, scrunchie fingerless glove class, and I'd like to try a moebius cowl class. Call if interested and we will set something up! (906) 364-4752. thanks! Nanette
HAPPY 4TH! I will be open on Friday, the 4th of July from 9-2:00. I hope you all enjoy your friends and families on this wonderful holiday. Stay safe! Nanette :)
July 1, 2014
Happy Fourth of July!
My new summer hours are Tuesday-Saturday, 9-5....closed Sunday and Monday.
Enjoy your summer and have a safe holiday!
June 10, 2014
Hello fellow crafters! I am excited to share with you what is new at Nanette's Knits and Gifts! With the help of my machinist family, we've been designing and creating these unique UP (upper peninsula) necklaces and key chains, made from copper, titanium and aluminum. I am also carrying the Yooper T shirts and hats. Let's not forget the beautiful quality yarns and notions here at Nanette's along with some of my own alpaca yarn. The turbo needles are the best needles for that project you are planning. Stop in and say "Hi" and thank you!
Nanette
May15, 2014 Good morning! I'm finally able to get on here and update my website. I have to say it's been a little bit rough these last two weeks, recovering from a total knee replacement, but every day from now on will be better! I have been at my shop two hours every day for this past week and my first full day will be Saturday. I am excited to be back and I am so grateful for Leigh and Cyndi for holding down the fort and doing such a great job taking care of my shop and customers. Several new things in the works… Nanette's Knits and Gifts will be carrying UP pendants and keychains, and also the Yoopershirts! My brother David's hummingbird feeders have been really doing well. I've had repeat customers come and pick up more for the bird lovers in their family.. I hope you are enjoying the spring like weather. It is nice to see green finally after such a long drawn out winter.. Once I am back on my feet, I will start classes up again..excited! Thank you. Nanette😊
April 25, 2014
Hi there! Some very exciting news to share with you...As of April 30th I will be retired from the school!! I will be able to be at my shop all the time (after I get my knee replaced (Monday the 28th...sigh.) Just another bump in the road. I can do this. In the meantime, Leigh and Cyndi will be here to help you out with choosing yarn, patterns, and spring projects. Love these girls! take care and hope to see you very soon! Thanks Nanette :)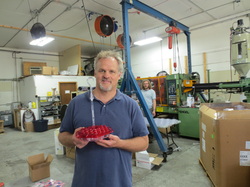 April 6th, 2014
Hello fellow crafters! I think spring has sprung here in the UP! We have tons of snow yet, but it's melting fast. Rivers are forming in the streets. Love, love, love the sunshine! So sloppy but a great time to start a new project for spring. Nanette's Knits has gorgeous spring and summer yarns in bright cheery colors. Also don't forget Mother's Day is right around the corner. Pick up your new 'Lil Sweetie hummingbird feeder, created by brother Dave (www.lovemybirds.com) featured in "Birds and Bloom" Those little birds are bound to be hungry by May 1st! Hope to see you soon! Nanette :)
---
March 6, 2014 What a winter this has been, eh? It has it been the coldest winter in over 50 years...the frost has gone down over 87 inches! The good news is...Nanette's Knits and Gifts has many gorgeous new yarns in which to start on that project you've been wanting to begin..a cozy, warm knitting or crochet project that will keep you sane on these cold days and nights...also, those super cute Sassy Skein Kits are now 20% off..right around the corner is spring...let's think of those wonderful hummingbird feeders everyone is talking about, featured in "Birds and Bloom" (lifetime guarantee) my brothers web site is www.lovemybirds.com... check it out!
...going on a tropical vacation? Try my magic skirts...so versatile, with 15 different ways in which to wear them... These beautiful wrap-around skirts are easy to pack, and not one is the same! Add a bright top, and you're ready to go! I have three myself, and eyeing up some of these new ones that just came in!! If you'd like to take a part of the UP home with you, Nanette's Knits and Gifts has beautiful carvings of the Upper Peninsula from birds eye maple, granite, or they can be carved from just about any material of your choice..
Lots going on here..three more months and I will be at my shop full time...that means 'classes'! Hope to see you soon! Nanette😊
February 15, 2014.
Hello from Nanette's Knits! I'm hoping everyone had a wonderful Valentine's Day! Presidents' Day is tomorrow, and I will be open at the shop from 9 to 5.. If you need a project on these long winter days I will be here to help you pick one out... I received lots of beautiful new yarns with super cute patterns to go along with them.. Believe it or not, spring is on its way. So stop in and pick up a Hum Sweet hum or 'Lil Sweetie hummingbird feeder created and designed by my brother Dave (www.lovemybirds.com). They were my bestsellers last spring. A great gift for Mother's Day as well, for those that like to think ahead... Many other unique and unusual gifts at Nanette's Knits and Gifts!
January 23, 2014
Hello! Another 85#'s of gorgeous yarns have been delivered here at Nanette's Knits and Gifts! Check out the Cape Town Collection of wonderfully soft handpainted yarns. Also some top of the line bulky yarns by Kraemer Yarns for some quick projects!
Don't forget the popular toasty warm alpaca socks everyone is talking about.
One thing I have to mention...I won't be able to retire on the date I was told. Apparently there was a glitch in the system, so I will have to work till June 4th. Also no Peru trip...yes, it's disappointing, but not much I can do. It could be worse, I guess.
Hope everyone is keeping warm. These last few weeks have been a challenge for sure. On the bright side, I only have to use my headlamp to feed the animals in the mornings. It's still light out at 5:00 pm when I get home and getting lighter! Take Care! Nanette
Jan 3rd, 2013
Hello fellow crafters! Just a reminder that Nanette's Knits and Gifts will return to regular hours this week which is Tuesday-Saturday 10-5, closed Sunday and Monday. Just think, 25 more days till I retire from the school. Then I will be here full time! Yay. Thank you all for your patience and understanding. Hope everyone had a wonderful holiday season. Stay warm! Nanette
HAPPY NEW YEAR!
I would like to take this opportunity to thank you for your continuted support of this little knit and gift shop. It has been a wonderful year of meeting new people and getting reacquainted with old friends. Stop in and check out the new yarns I've been getting in daily, from "dancing feet" opal sock yarn to the new colors of Plymouth and Cascade yarns, also the silky soft alpaca yarn from my animals that is a joy to knit up. There are toasty warm alpaca socks, and hand knit alpaca mitts for these blustery cold days! Down to 15 below by Sunday night! Take care... Nanette :)
December 21, 2013
Good Morning! I am officially on Holiday break as of today! You know what that means? I will be at my knitting shop every day from now till Jan 5th, 9-5, except Christmas and New Year's. Stop on in and check out all the unique gifts and wonderful yarns here, including gorgeous, silky soft yarn from my alpacas! Thank you! Nanette
December 10, 2013
Happy Holidays! The Christmas season is upon us! Here at Nanette's Knits and Gifts, there is a wide variety of unique and one of a kind gifts for your loved ones! There are wood carvings, crafted by my brother Jim, hummingbird feeders designed and made by my brother Dave (see his website....www.lovemybirds.com) Wool ornaments designed and crafted by my mom Hazel, natural bees wax candles made by my sister Maria. Maria's son, Prashant, tye dyes ECO socks made of bamboo. He also tye dyes onsies for babies. Green Bay Packer colors available, as well as Detroit Lions and Minnesota Viking colors! Stop in and check out Nanette's own alpaca yarn from her beautiful animals. There are many other quality yarns to choose from as well as knitting kits for the knitter in your family. The best gifts are the hand knit gifts...if you can't decide, there are gift certificates available.. Stop in and say Hi, warm up by my fire, bring a project to knit and we will see you soon! Thanks so much Nanette :)
November 11, 2013
Hello there! Well, is winter here to stay? I'm thinking it is. Single digits tomorrow. Brrrr! Stop in and knit by my toasty warm fire and enjoy the tranquility of my shop. My open house is Saturday! 9-5. That came fast. I'm excited to show you all the new yarns, especially the yarn from my alpacas! It is buttery soft and so very pretty. I've ordered some kits from Colinette yarns. They are beauriful! You will have the choice of making a gorgous throw or two shawls, one for you and one for a friend. There will be prizes and refreshments available. Then on Black Friday I will be open from 7:00 a.m. to 7:00 pm! I'm counting down the days till I retire from the school. 51 work days left! Excited! Hope all is going well for everyone. Nanette :)
November 2nd, 2013
Just a quick note: There's been a change on the date for my open house ...it will be Saturday, November 16th. Perfect day to head out bumming...guys are all out hunting...get a jump on some unique gifts and ideas for knitting for your favorite guy, gal or child! Wait till you see ( and feel) the yarn from my animals! The gal from the fiber mill wrote a little note saying, "Lovely fiber, a joy to spin" Nanette :)
October 26, 2013
Hi there fellow crafters. I'm looking at my website and I'm trying to decide whether or not to change my background from these pretty leaves to a snowy scene. I really hate to do this. We've had snow on the ground for over a week now. It's snowing now. All the leaves are gone. Seeing how we've had snow in May still, and now snow in October, that's only 4 months without snow. Not good. The good news is my second batch of alpaca yarn will be shipped out on Monday! The gal at the fiber mill just gushed over it. She said the mixture of Petrie's and Max's yarn (both 1 1/2 years old) was gorgeous, she said it was just like silk! Lanette Purl (white) and Libery Lou's (dark brown) was beautiful as well. I can't wait to open those boxes! My open house will be November 16th from 9-5. I will have refreshments and prizes! Stop in and see all the new yarns and gift items I've been receiving daily! And.....only 65 more days till I retire!!!!! See you soon!
Nanette :)
Sept 21st, 2013
Happy fall everyone! The time is flying by...only 90 more school days and I will be officially retired! We booked a flight to Peru soon afterwards to celebrate my retirement (oh, and also to find some cool yarns!) Can't wait to start this adventure and new chapter in my life! Cindy and Leigh are doing great here at my shop. If you haven't stopped in yet, come meet them and say Hi! They will help you with any knitting or crocheting problems you may be having ... if you're interested in classes, ask them and they will set you up! Notice my hours are from Tuesday-Saturday 10:00-5:00. Cheers! Nanette :)
Sept 1st, 2013
Greetings! I hope everyone is enjoying their 3 day holiday. I sure am. This is just a reminder to let you know that I will be open tomorrow, Labor Day, for anyone that needs that special sized needle or one more project for the trip home. Stop in and see all my beautiful fall yarns and neat patterns! Nanette :)
August 23, 2013
Hi there!
Just a quick note to let you know that the gals I hired to take over for me when I go back to work for these next 5 months, will be offering classes in knitting, crocheting and felting! Cindy Guzman, Winchester, is an amazing artist in knitting, crocheting, felting and also needle felting. Leigh Dabb, Ironwood, is a wonderful crocheter. She will be able to teach you crocheting from the basics to the more experienced level. Stop in and say Hi to these ladies. I am thankful to them for helping me stay open while I finish my stint at the school, and very fortunate to have found such talent! I will be in the shop from 4-5:00 each evening Tues-Fri, and all day on Saturdays (oh, and snow days too!) Remember my shop hours for the fall and early winter are 10:00-5:00, Tues-Saturday.
Thanks so much for your patience! Nanette
August 14, 2013
Hello fellow crafters! Well the summer is winding down and I have to go back to work at the school right after labor day, Sept 3rd. I will really miss being at this fun knit shop, but the good news is that I hired two very competent knitters and crocheters! They do wonderful work and will be able to help you choose your yarns and patterns. My new fall hours will be 10:00-5:00.. I will be at the shop every day at 4:00 p.m. to take over for them for an hour and close for the day. Just remember this is just until I retire (February 7th at 4:00!) Classes will have to be put on hold until February when I am full time at "Nanette's Knits and Gifts" Thanks so much for being patient .... Nanette :) ps...don't forget to check out my soft gorgeous yarn from my alpacas that just came in, along with the beautiful colored fall yarns.
7-31-13 Hi again,
I know I just wrote this morning, but I just had to post this note and picture. Some of my alpaca yarn has arrived. This is the batch I was the most exciited for...the handpainted yarn from Ande...It is so lovely..very soft and fluid, like silk! I had her mix Cinder's and Ande's fiber for the gray. The black is like cashmere! Katie's is wonderrful as well. So excited! Nanette
---
July 31st, 2013
Hello there! The last day of July and Nanette's Knits and Gifts is getting geared up for fall knitting! Lots of yarn has been ordered. Many new yarns and colors coming in. Also...(I am so excited) The 6 pounds of white alpaca fiber that I saved for hand painting is being shipped back to me today! Also Cinder's black yarn and Katie's medium fawn colored yarn is coming this week as well! Come in and check it out. I have a feeling this yarn will not stay on my shelves long (even quicker than last year's yarn sell out!)


One more note...I'm looking for some knitting fairies ... I won't be closing this fall when I go back to school. I would like to hire 2 or 3 experienced knitters in our area to stay at my knit shop until I retire in February (4:00 sharp on February 7th!) They will need to be at my shop a few minutes before 10:00 and I will take over for them at 4:00 when I come through with my bus. So it would only be 6 hours, just until February. Come see me and we will talk! :) Have a wonderful day! Nanette
July 16, 2013
Good morning fellow crafters! Just finished posting our Sassy Skein photo shoot we had yesterday with 7 adorable children! Check it out on my "Knits and Gifts" ...
I will be very difficult to get hold of these next few days. I left my phone out in the rain all night. All my classes will be held as scheduled (see 'classes') and my hours are the same (Tuesday-Sat 9-5) I will get it fixed very soon. I apoligize for any inconvenience. Nanette
June 30, 2013
Good morning! Beautiful day today. Just a quick note ... I will be closed Thursday July 4th (I'm going to try and have Ande (my alpaca) in the Wakefield parade)...so because I'll be closed Thursday, I will be open tomorrow, Monday. See you there! HAPPY 4TH OF JULY! :) Nanette
June 22, 2013 GRAND OPENING OF 'NANETTE'S KNITS AND GIFTS'!
My Grand Opening was a huge success. The cars lined the streets on both sides for 3 blocks, in this little town of Wakefield! It was great to see. The Chamber of Commerce welcomed my little shop and showed wonderful support! Instead of cutting a ribbon, we cut a fine merino wool scarf (NOT) I even had a harpist! It made my day for her to be there playing her soothing music. Beautiful prizes were given out to 18 lucky winners!
Remember, my summer hours are Tuesday-Saturday from 9-5. I reserve Sundays and Mondays for my family time and also to take care of my 9 alpacas! I just shipped 24 pounds of alpaca fiber to be spun into beautiful yarn! 6 pounds of it will be handpainted. I can't wait till it all comes in!
On the 4th of July (if it isn't too hot) I will be taking one of my alpacas in the Wakefield parade! Ande did a great job in the Jack Frost Parade, so hopefully he will do the same for this one. Jasmine Jewel is doing great! She is really running around now and very playful. Hope to see you soon! Nanette :)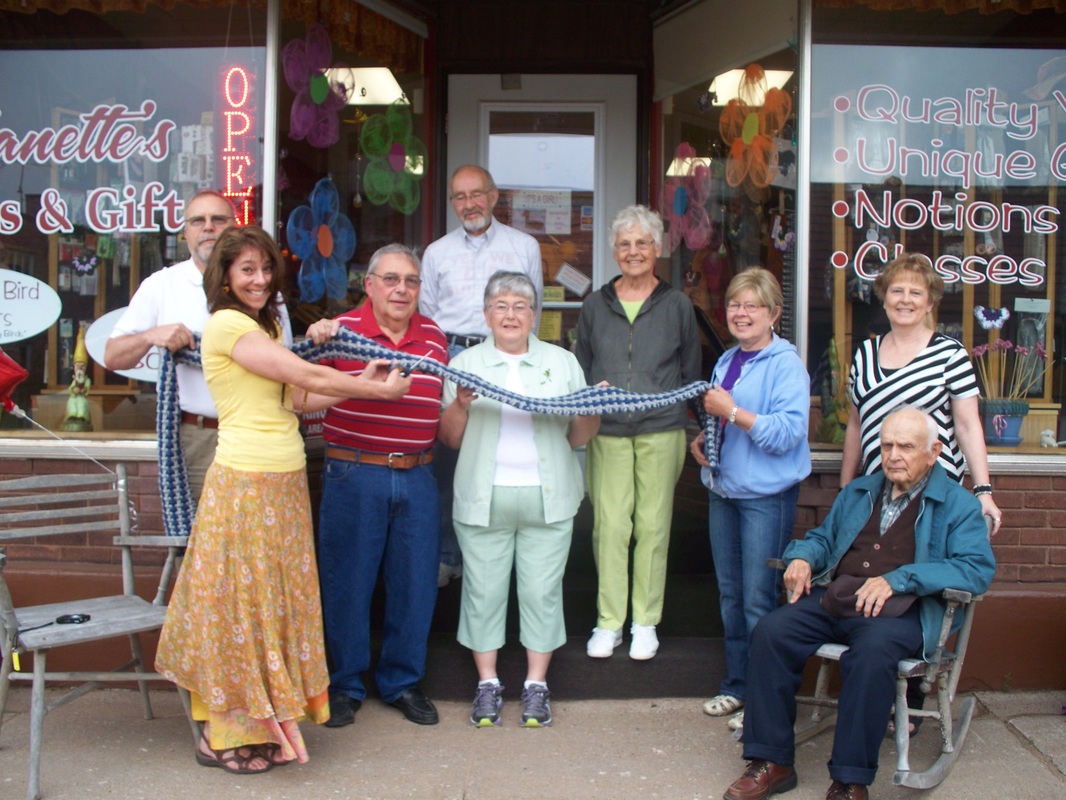 6-20-13
Hi Everyone! I know you've all been waiting for news about my little cria (baby alpaca). I wanted to wait a bit before I announced her birth to make sure everything went well. To the right you'll see pictures of her when she is minutes old ... today she is one week old. Meet Jasmine Jewel of Orchard Hills! She is healthy and growing! I tied a bright bandana on her as I was concerned about Eagles and turkey vultures that were circling. I read that if you put something bright on your cria, the predators will be less likely to think of your baby as their prey! Enjoy! Don't forget my GRAND OPENING is this Saturday! Lots of prizes and refreshments available throughout the day. Stop in and check it out! Nanette :)
GRAND OPENING! Saturday June 22nd 9-5
Prizes and refreshments throughout the day...stop in...enjoy!
June 5th, 2013
Good Morning everyone!
My summer hours start today! Tuesday-Saturday 9-5, closed Sunday and Monday. I'm excited to finally be her full time this summer! Then I only have to work at the school till February and I'll be retired!
Hello everyone!
Only a few more days of working at the school and I will have the whole summer off to spend in my knit shop! Yay! I will be open Memorial Day 9-5. New summer hours will be Tuesday-Saturday 9-5. I will be closed Sunday and Monday to spend time with grandkids and alpacas (oh yes, and husband). If there is an emergency (you need a needle right now!) please call (906) 364-4752 and I will be happy to help you if I can. :)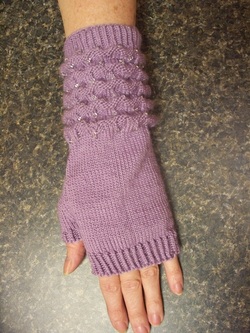 Nanette's Knits is already planning another class! This one is the Scrunchie Glove Class, which will start Monday May 20th 6-8 pm. We will be making these gloves using silver lined TOHO beads. You must be at least an advanced beginner and this class will be $20 with 10% off materials. The skills you will learn are: working with 4 needles, knitting with beads, knitting a ribbing and making a thumb gusset. I can take 6 students and the class will run 3 weeks. Please call (906) 364-4752
---
May 7, 2013
Our sock class is finished and what fun it was. Everyone is excited to be making their very own socks. I think I've created some 'sock addicts' as a few ladies are on their second pair already with plans to make a pair for every member of their family for Christmas gifts! See slideshow :)
May 3rd, 2013
My Granddaughter's 4th birthday! And yes, yet another snow day for our area. Nanette's Knits and Gifts will be open today 9-5. Come in and check out the new linen yarns for spring and summer knitted tops, also all the beautiful colored cotton yarns. The roads should be cleared by this morning. We had a taste of spring the other day, we want more! Pick up an awesome Hum Sweet Hum bird feeder for your favorite Mother or Mother-in-law! (featured in Birds and Bloom magazine) (906) 364-4752
April 23rd, 2013
Hi there! Who would have thought we'd have another snow day today?!!! I will be open from 9-5 today. Even if no one ventures out today, I am where I want to be ... Yay! Think spring everyone! Nanette
ps...I have a full class making socks on Monday and more room for classes on Thursday night, whether you'd like to learn to make that linen market tote or if you'd like to learn to make a pair of socks, I will show you, and since I had to cancel last Thursdays class due to weather, you'd be starting fresh, just like everyone else!
April 1, 2013
Hello Everyone!
I hope you all had a wonderful Easter. I am sooo enjoying being off from school on this long holiday! I will be open the rest of the week from 9-5, closed on Sunday. Also I will be starting two classes. One on Monday nights in which you will learn how to knit socks. You must be at least an advanced beginner to take this class. This class will be $35.00 and 10% off on materials. Then on Thursday nights I will be offering a class on making a spring tote (market bag) out of linen. This class will be $20 and 10% off materials as well. So sign up quickly. I can only take 8 students in each class. :) Think spring!
March 17th, 2013
It's Sunday and I needed to clean the shop, so I figured I'd update this a bit. I've got a new 'pattern wall' up...right under the check out counter. Many new patterns for spring and summer knitting/crocheting...also another box of yarn arrived Thursday along with more beeswax candles (Easter bunnies and chicks!) I will be opening on Thursday evenings again starting this week from 6-8 and we'll see how it goes. Have a great week! Nanette
March 6, 2013
Hello fellow crafters! Are we all thinking spring? I think it's right around the corner now. I just learned that Bessemer doesn't have school Monday the 11th of March so guess where I will be! Yes! At the shop from 9-5. I should have another big order of yarn in by then...oh, and new patterns as well! Beautiful colors and textures for spring and summer projects. So in addition to being open all spring break (check below) I will be open every Saturday from 9-5 and now the 11th of March. Stop in and check it out! Nanette :)
February 23, 2013
My store hours will be Saturdays 9-5. I am still recovering from knee surgery and I'll be going to Physical Therapy at night for the next several months. I will be open during spring break which starts Friday March 29th. I will be open Good Friday 9-5, Then Saturday 9-5, April 1st-6th, 9-5. Closed Sundays. Again I thank you for your patience. My spring and summer yarns arrived last week. Come check out the beautiful colors and patterns. Also just received a shipment of "Hum Sweet Hum" hummingbird feeders. Check out my brother's website
www.lovemybirds.com
These feeders are amazing! Happy Crafting! Nanette :) (906-364-4752
President's Sale!!! 20, 30, 50, and up to 75% off all some yarns! I need to make room for this shipment of over 150 pounds of wonderful spring and summer yarns! Come in and check it out! Nanette :)
Think Spring Everyone! Check out this video of my brother's hummingbird feeders. This is available at Nanette's Knits and Gifts. Perfect for a housewarming, retirement or birthday gift! Also don't forget Mother's Day which is right around the corner!
February 15th...I hope everyone had a wonderful Valentine's Day. Here is an update on days I will be open. I will apologize ahead of time for my messed up schedule and I thank you for your patience. I need to go back to my real job (you know..the one that pays for my hospital bill?) on February 19th. Today (Friday) I have to attend a 'bus driving training' course....I will be open Saturdays from 9-5, President's Day 9-5. I need physical therapy on my knee in the evenings, so I won't be open from 6-8 for awhile. Easter vacation I plan to be open quite a bit and will post the hours closer to that time. Once again thank you! Nanette :) Oh...I should mention that I've ordered over 150 pounds of spring/summer yarns. Really neat yarns and colors too. It's already been shipped! (where to put it now?)
February 10, 2013
My knee is healing. I prefer to recuperate at my shop, rather than sit at home. I will try and be there as much as I can, between doctor's apts and physical therapy, so please call (906) 364-4752 to see when I will be at Nanette's Knits. Thank you so much! Nanette
February 8th
Hi all! My surgery went well. I will be opening tomorrow (Saturday) with the help of daughter and hubby, Rachael and Jim. So come on out and check out my new yarns and patterns.
Hi fellow knitters and crafters,
I will be having minor knee surgery on Tuesday, February 5th. I will probably be laying low for a few days afterwards, but will be up and running very soon. Please call (906) 364-4752 if you have any questions. Also there will be one more week of classes for sure with some cool felted slipper pictures to come. :)
Jan 17, 2013
Wow! It's been a little over 3 months since I've opened. I've learned so much. I've thrummed a hat and mitten set out of some of my alpaca yarn. I'm learning how to knit with beads. Beads and beading kits are at Nanette's Knits. I would love to have a 'Knit with Beads' class! I've just heard of Illusion knitting and would like to try it real soon. My shop is growing. The felted slipper class is under way, with a felted purse class to follow. Fun!

Jan 15, 2012
Our felted slipper class Thursday was so much fun! Everyone has a great start on their soles and some even have the slippers finished and ready to felt! Stay tuned for pictures! .....added February... Below are just some of the felted slippers made.
Dec. 31, 2012
Happy New Year! Just a reminder that my store hours during this holiday break are Monday-Saturday 9-5, closed Sunday. Then back to work at the school Jan 7th, so back to evenings 6-8, Saturday 9-5. If you have any questions, please call (906) 364-4752. See you soon!
Nanette :)


| | |
| --- | --- |
| Nanette's Knits and Gifts is offering a felted slipper class starting Thursday Jan 10 from 6-8 pm. We will meet every Thursday evening until your slippers are finished. You will learn the art of felting and also needle felting designs. Cost is $35.00. If you have wool, bring it. If you'd like to use novelty yarn for the cuff, you can bring that as well. It won't felt and it adds to your slippers. You will need a circular sz 13 needle, if you don't have it, I do. Skills needed are casting on and knitting..I will teach you the rest! I can take 8 students (906) 364-4752 Class is full..Thank you! | |
Hi there!
I hope everyone had a great Christmas. Nanette's Knits will be open Dec 26, 27, 29, and 29th from 9-5. January 1-5 from 9-5. I am extending my hours during Christmas break. Then starting January 7th I go back to work at the school, so I will be open nights 6-8, Saturdays 9-5. Have a wonderful New Years!
Please call (906) 364-4752 if you have any questions. Thanks! Nanette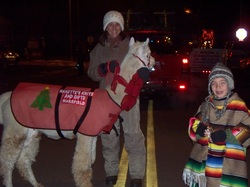 December 7th, 2012 Jack Frost Parade was a great success! Ande my alpaca was a prince and behaved beautifully! Next time I will have to carry a sign saying "Ande is an alpaca, not a llama!" Leo my little Peruvian boy and his mom Julie did a great job distributing candy and business cards. Happy Holidays Everyone!
Nanette :)
---
Click on picture to enlarge.

Happy Holidays Everyone!
Well I've been open for almost 2 months already! It has been so much fun. I've met so many interesting and talented people. I just learned about "thrumming" yesterday. I have honestly never heard of that before and it is so neat! (Notice my new thrummed hat I wore in the parade!)

I have decided to open on Saturdays from now till after New Year's from 9:00-5:00. Saturdays is the only day some people can stop in because of work, so I thought "Why not" I can take care of the animals with my head lamp at 5:00. They really won't mind.
I'll still be open week days from Tues-Friday from 6:00-8:00. Also, during Christmas break I have 2 weeks off, I will try and be open as much as possible. Call (906) 364-4752. Knitting classes are Monday nights. Beginners, call me (906-) 364-4752. It would be helpful if you know how to cast on. :)

Stop in and check us out! We have Christmas Cash to give out for every $10.00 you spend and you can redeem your bucks from other retailers in the area.

See you soon!
Nanette


Oct 6, 2012
Hi Knitters, Crafters and Friends!
It has finally arrived! Today I will open my shop for the first time. I am excited and nervous as well. It's been 2 years since I've started this adventure.
I will be open Saturdays from 10:00-2:00. During the holidays I will open Tuesday-Friday 6-8, Saturdays 10:00-2:00. Once I retire from the school I will open full time to enjoy the peace and tranquility of this little shop. Stop in and check it out!
Nanette :)